Index Card is a corkboard writing app for iPad that makes it easy to capture, organize, and compile your ideas. Whether you are an author, screenwriter, or academic researcher, Index Card can help you become a more efficient, organized writer. Download Index Card and discover why thousands of iPad owners are already using it.
Testimonials
I love your program!!!! Great for screenwriting.

Jesse Alexander, Emmy-winning Co-Executive Producer, LOST
A fabulous app that helps me create and organize my business keynote speeches.

Micah Solomon, #1 Best-selling Author
Love your app. I am using it now to structure my new feature script.

Måns Mårlind, Writer / Director, Underworld Awakening
Features

Get Started Quickly
Capture your ideas and store notes as they come to you
Organize the flow of your project using a familiar corkboard interface
Assign color labels to flag scenes, characters, or status

Create & Edit Your Story
Write and edit using the onscreen keyboard or an iPad compatible external keyboard
Use the extended keyboard to quickly enter punctuation, symbols, and navigate text
Index Card automatically saves your work as you make edits
Changes are reflected every time you export

Made for Touch
Touch and drag a card to reorder
Tap a card to open it for editing
Swipe the editing screen to navigate through your project, one card at a time
Scroll the card list to browse your entire project

Flexible & Powerful
Develop multiple separate projects
Edit card title, synopsis, notes, text, color label and more…
View in corkboard, outline, or column mode (great for breaking acts)
Select background, font style, and font size to display
Track card, word, and character counts
Enable the Long Text field for extended writing

Share Your Work
Export as RTF or Plain Text, readable by most word processors
Share .indexcard files with other Index Card iPad or iPhone users
Copy projects to Dropbox, or directly to your Mac or PC using iTunes File Sharing
Email projects without leaving the app
Sync with Scrivener Mac OS X writing app (card title, synopsis, long text, sort order)
Present on an external HDMI display using your iPad 2 and the Apple Digital AV Adapter
Print from your iPad using an AirPrint enable printer
Reviews
Best App for Index Card Writers

Best iPad Apps: The Guide for Discriminating Downloaders
Index Card is "Superb" for Screenwriters

Cult of Mac
Invaluable to writers.

AppStorm
Join Emmy winners, Golden Globe winners, and best-selling authors.
Get Index Card from the App Store

Index Card for iPhone
Index Card is also available as an iPhone app. So you can create and share projects on your iPhone.
Learn more about Index Card for iPhone

Scrivener for Mac OS X
Index Card can sync projects with the Scrivener Mac OS X app. So you can create and share projects on your Mac.
Learn more about Scrivener
<!–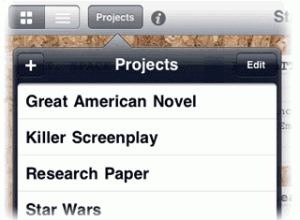 Everything's A Tap Away
Create a project for each body of work. It can be a book, screenplay, or research paper. You can create multiple separate projects, each made up of its own cards. Use the Projects button to switch between existing projects, start a new body of work, or delete old ones.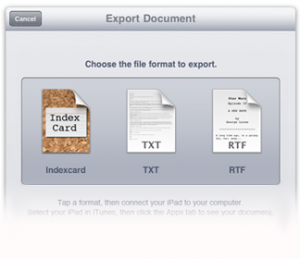 Desktop App Friendly
Index Card can export projects as IndexCard, RTF, or Plain Text files. That way, whether you use a Mac or a PC, you can always work with the files you need.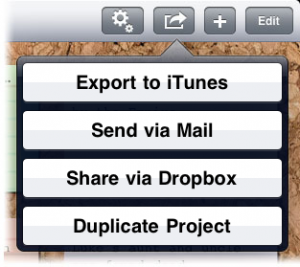 Plenty of ways to share.
Share your presentations with anyone, including yourself. You can send and receive files via email. Transfer them from your device to your computer through iTunes. And print wirelessly with AirPrint.
–>