Comic Viewer is a great way to download and read comics. Comic Viewer has an integrated web browser, so you can download comics from your favorite site. Or add comics via your computer with USB. Browse your library by cover, or a searchable list view. Tap a comic to open it, flip through pages with a swipe or a tap and experience realistic page turns. You can even view 2-pages side-by-side by rotating landscape.
Reviews
Really nice, and it's fast.

BoingBoing
I now have a new favorite – Comic Viewer.

iMore
…unique functionality that future apps will have to include to be considered the true killer iPad comic app.

Gizmodo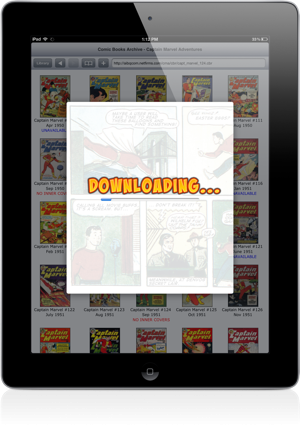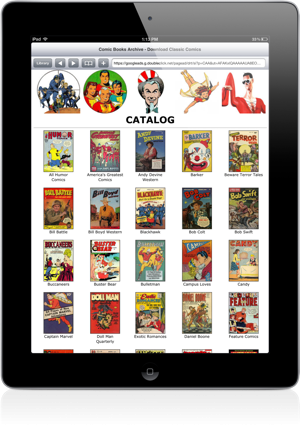 Web Browser Built In
Use the integrated web browser to download comic archives from the Internet directly to Comic Viewer. You'll find thousands of free archives on the web. You can also add your own comic archives via USB with iPad File Sharing in iTunes.
Side-by-Side Pages
Enjoy 2-page spreads. Turn your iPad landscape and Comic Viewer will automatically display 2 portrait pages side-by-side. Just like it was meant to be.
Realistic Page Turns
Slide your finger and watch the page follow your movement, curling to reveal what's next.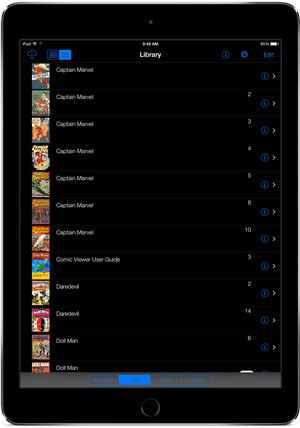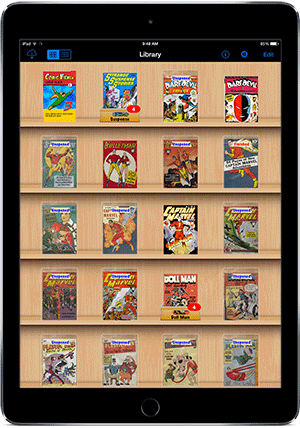 Multiple Views
View your comics as covers on a shelf, that you can touch and drag to reorder. Or display your collection as a list that you can search and sort.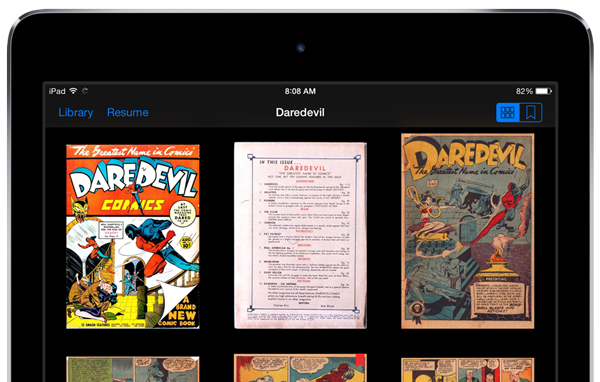 Multi-page Preview
Preview all the pages of a comic as thumbnails, or just those that you have bookmarked.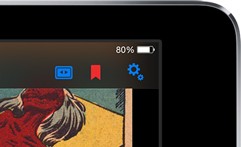 View Fullscreen
Tap the fullscreen button to automatically expand your comic to fit the width of the screen. Tap the bookmark icon to bookmark individual pages.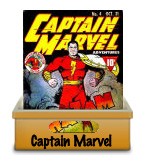 Organize with Stacks
Stacks let you organize your comics in an intuitive way. Select multiple comics and store them in a longbox with a name you define. It behaves similar to Folders in iOS 4.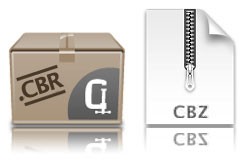 Play Nice
Add comics in the most popular formats, including .cbz, .zip, .cbr, and .rar archives, as well as .png, .jpg, .gif images.

Get Comics
Download free comics using the integrated web browser
Add comics over USB with iTunes File Sharing
Open comics from Mail or Dropbox apps

Organize Your Library
Browse your collection by cover or list
Display reading status for Unopened, Opened, and Finished comics
Organize comics into stacks
Search and sort comics in list view

Read by Touch
Flip pages by swiping or tapping
Zoom in on pages with double-tap or pinch / expand gestures
Drag covers to reorder comics on your library shelves
Tap a comic to open for reading
Jump to a specific page with the navigation slider

Control Your Experience
Adjust screen screen brightness to find perfect lighting for any environment
Auto-fit pages to screen width with a single tap of the fullscreen button
Bookmark individual pages
Preview comic pages as thumbnails (all or just bookmarked)
Switch comics to Manga mode for right-to-left reading
Choose what's next with last page dialog that returns you to Library or starts comic over

Enjoy the View
View 2-pages side-by-side in landscape
Experience realistic page turn animations
Choose from 3 background themes
Enjoy images optimized for the best display and reading performance
Resume reading where you left off with last page auto-save
Hide background, controls, and status bar for distraction-free reading

Harness Comic Metadata (CoMet)
View, add, or edit, detailed comic info via the proposed CoMet standard
Sort your library by title, series, or genre
Search your library to find comics quickly
Achievements
Top 5 – Paid iPad Books App

Apple iTunes App Store
What's Hot

Apple iTunes App Store
New & Noteworthy

Apple iTunes App Store
Screenshots
Try the iPad comic reader that thousands have already downloaded.
Get Comic Viewer from the App Store